If you're looking for a natural and holistic approach to your health, acupuncture may be the answer. Auckland is home to many skilled acupuncturists who can help you with a range of health issues.
Acupuncture is a form of traditional Chinese medicine that has been used for thousands of years. It involves the insertion of thin needles into specific points on the body to stimulate the flow of energy, or Qi. This can help to relieve pain, reduce stress, improve sleep, and treat a range of other health problems. In this blog, we'll be exploring the best acupuncturists in Auckland.
From traditional Chinese medicine to modern acupuncture techniques, these acupuncturists have been handpicked by us to ensure that you receive the best treatment available in Auckland. Whether you're looking for relief from pain, stress, or anxiety, these acupuncturists have got you covered.
So, without any further delay, let's jump into the world of the best acupuncturists in Auckland, where you can find top-notch treatment and care to improve your health and wellness. Our list has been curated by experts who have extensive knowledge and experience in acupuncture, ensuring that you receive the most reliable and trustworthy information.
YOU MIGHT ALSO LIKE:
The Best Acupuncturists in Auckland
1. Auckland City Acupuncture
Location: Level 7, 300 Queen Street, Auckland
Phone: (09) 948 1653
Time: Monday to Friday: 10 am to 7 pm
Auckland City Acupuncture is a holistic health clinic in New Zealand that offers traditional Chinese acupuncture treatments to help patients achieve optimal health and wellbeing. With a team of highly trained and experienced acupuncturists, the clinic provides personalized treatment plans to address a wide range of health issues, including pain management, fertility support, digestive disorders, and stress relief.
This clinic also offers cupping, herbal medicine, and dietary therapy to complement acupuncture treatments. Their goal is to help patients achieve long-term health and wellness by treating the root cause of their health issues, rather than just the symptoms.
2. Advanced Health Group
Location: 18 Shortland Street, Auckland
Phone: 09 358 5226
Time: Mon – Thurs: 6:30am-6:00pm
Advanced Health Group is a healthcare provider based in Auckland, New Zealand, offering a range of services including acupuncture, physiotherapy, chiropractic care, and more. Auckland City Acupuncture is one of the many services offered by the group, providing traditional Chinese acupuncture techniques to help improve overall health and wellness.
The highly trained acupuncturists at Advanced Health Group work to provide personalized treatment plans for each patient, ensuring they receive the best care possible. With a focus on holistic healthcare, Advanced Health Group strives to help patients achieve optimal health and wellness through a variety of natural and effective therapies.
3. Phd Win Acupuncture
Location: 1054 New North Road, Mt Albert, Auckland
Phone: 09 8150518
Time: Mon to Fri – 9am to 5pm & Sun 9am to 1pm
PhD Win Acupuncture is a reputable acupuncture clinic in Auckland. operated by Dr. Win Huang, a registered acupuncturist with over 40 years of experience. The clinic offers a wide range of acupuncture treatments for pain, stress, anxiety, fertility, and digestive disorders, as well as Chinese herbal medicine, cupping therapy, and moxibustion. With a commitment to personalized and holistic care, PhD Win Acupuncture is an excellent choice for those seeking an experienced acupuncturist in Auckland.
4. WYLD
Location: 2a Railway Street, Newmarket, Auckland
Phone: (09) 218 6886
WYLD Chiropractic is a reputable chiropractic clinic located in Ponsonby, Auckland. They specialize in providing natural, safe, and effective chiropractic care to help their patients achieve optimal health and wellness. At WYLD Chiropractic, they believe that chiropractic care is more than just treating pain; it's about improving the overall quality of life.
Their team of experienced chiropractors uses state-of-the-art techniques to assess and treat each patient's unique needs. They offer a wide range of services, including spinal adjustments, soft tissue therapy, exercise rehabilitation, and nutritional advice. They work closely with their patients to develop personalized treatment plans to help them achieve their health goals.
5. Accent Therapy
Location: Level 1, 40 Eden Crescent, Auckland
Phone: 021 956 173
At Accent Therapy, we provide personalized assessments that are specifically tailored to address your concerns and discomfort. They treatments are designed to target your pressure points, using either needles or non-invasive techniques, to effectively manage and reduce your pain. By addressing blockages and obstructions in your body's vital energy flow, our treatments aim to restore balance and promote healing.
6. The Boutique
Location: Victoria Square (Auckland CBD)
Phone: 64 9 3020 999
The Boutique in Sunnyhills, Auckland offers personalized health services including acupuncture, chiropractic, rejuvenation, and beauty therapy. Designed for busy lifestyles, The Boutique is a tranquil and rejuvenating place to receive treatment and find relief from the stresses of daily life.
7. West Auckland Acupuncture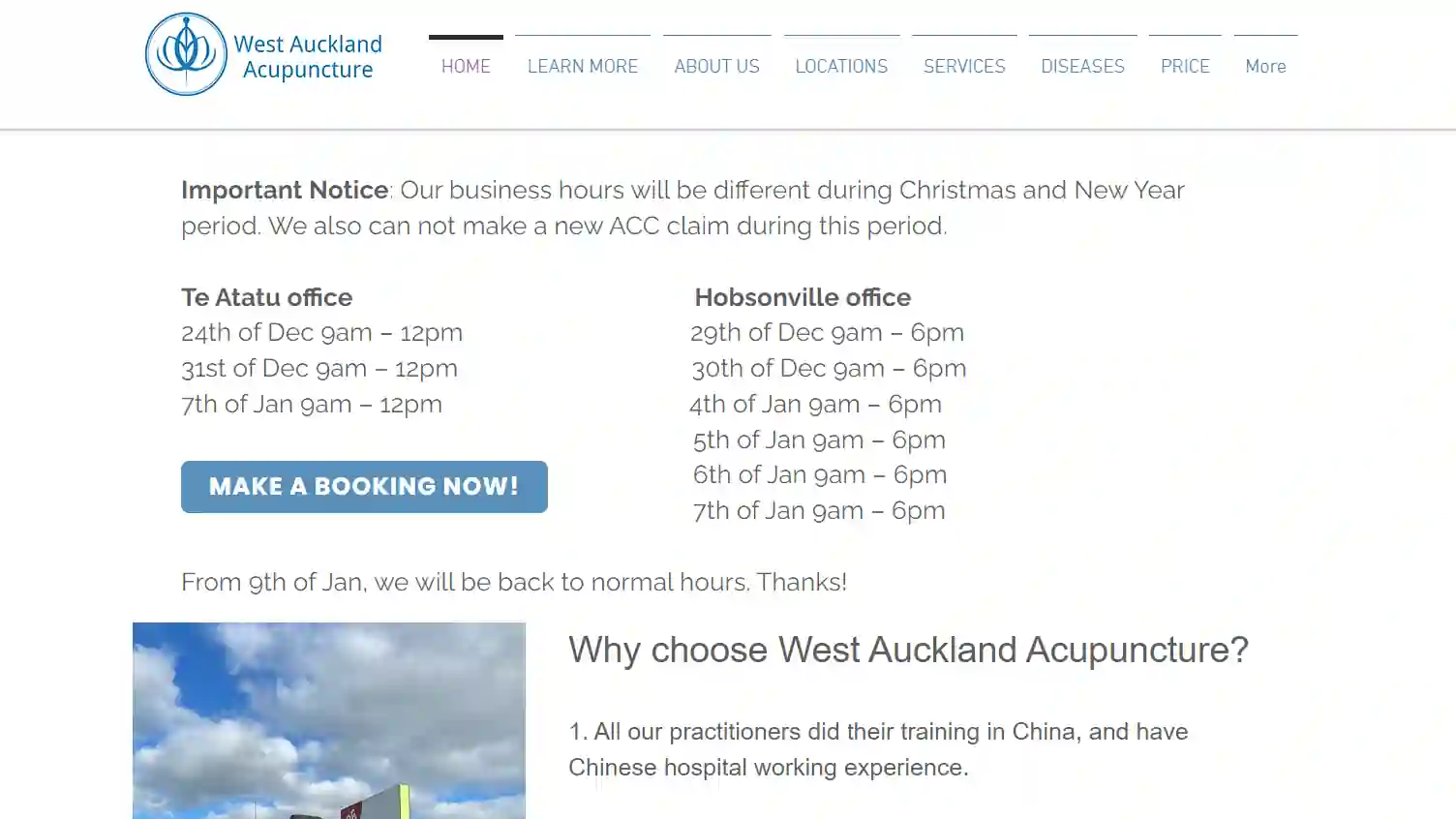 Location: 295 Hobsonville Road, Hobsonville
West Auckland Acupuncture is a leading provider of holistic healthcare services, focused on restoring balance and promoting wellness. Their experienced practitioners offer a range of treatments including acupuncture, herbal medicine, cupping, and more. Their approach is tailored to each individual, taking into account their unique needs and circumstances. With a commitment to excellence and compassionate care, West Auckland Acupuncture is the go-to destination for natural health solutions.
8. New Lynn Acupuncture
Location: 14 Delta Ave, New Lynn, Auckland 0600
Phone: 0228068989
New Lynn Acupuncture specializes in traditional Chinese acupuncture, which involves the insertion of fine needles into specific points on the body to stimulate healing and relieve pain. Johnson is an experienced acupuncturist who also offers cupping, moxibustion, and herbal medicine to provide a comprehensive approach to healing. With a focus on individualized care, New Lynn Acupuncture aims to improve their clients' physical, emotional, and mental well-being.
9. Vitalis Acupuncture
Location: Fertility Plus, Greenlane Clinical Centre
Phone: (09) 486 5111
Vitalis Acupuncture is a holistic healthcare clinic located in Auckland, New Zealand. They specialize in acupuncture and Chinese herbal medicine to treat a range of conditions including chronic pain, anxiety, and infertility. Their team of experienced acupuncturists uses a personalized approach to care, creating customized treatment plans for each patient. Vitalis Acupuncture aims to provide natural and effective solutions to improve their clients' physical, emotional, and mental well-being.
10. North Shore Acupuncture
Location: Unit 6 1 View Road, Glenfield, Auckland
Phone: 09 489 8219
Time: Mon to Thu – 8am to 5pm
North Shore Acupuncture is a healthcare clinic in Glenfield, North Shore, offering acupuncture and Chinese herbal medicine to treat a range of conditions. Their experienced acupuncturists work with patients to create personalized treatment plans that address their specific needs. In addition to acupuncture, the clinic also offers other therapies such as osteopathy and massage. North Shore Acupuncture aims to help their clients achieve optimal health and well-being through natural and holistic treatments.
FAQ's
Does acupuncture really work?
The effectiveness of acupuncture is still debated in the medical community, with some studies suggesting it may offer benefits for certain conditions while others attribute any improvements to placebo effects. While more research is needed, the National Center for Complementary and Integrative Health suggests that acupuncture may be useful for certain pain conditions.
What is the success rate of acupuncture?
Acupuncture has been found to be effective for treating a variety of conditions, with success rates varying depending on the specific ailment being treated. Research suggests that acupuncture is effective in treating chronic pain, with success rates ranging from 50-80%.