Exploring the picturesque streets of Wellington comes with its share of unforeseen vehicle mishaps, from sudden breakdowns to pesky flat tires. In such moments of automotive distress, a reliable towing company can be a true saviour. Navigating through the array of towing services available, we've hand-picked the top 6 towing companies in Wellington that not only offer Swift and efficient assistance but also prioritize customer satisfaction.
Whether you find yourself stranded in the heart of the city or on its outskirts, these towing companies are just a call away, ready to provide expert solutions and get you back on the road in no time.
YOU MIGHT ALSO LIKE:
The Best Tow Company In Wellington
1. Streamline Auto Solutions
Location: 12a Barnes St, Seaview, Lower Hutt, Wellington
Phone: 022 6470 730
Streamline Auto Solutions, a reputable tow company in Wellington. With their expert team and modern fleet, they ensure Swift and reliable assistance for all your towing needs. From breakdowns to vehicle transportation, it delivers top-notch service with a commitment to customer satisfaction.
2. Super Low Tow Services
Location: 74 Pharazyn Street, Lower Hutt
Phone: 0800 252 670
Super Low Tow Services With a commitment to prompt and reliable towing, their team is dedicated to assisting you in your time of need. Whether it's a breakdown, accident, or vehicle transport, it offers efficient solutions at competitive rates. Visit to learn more about their comprehensive towing options and exceptional customer service.
3. Total Towing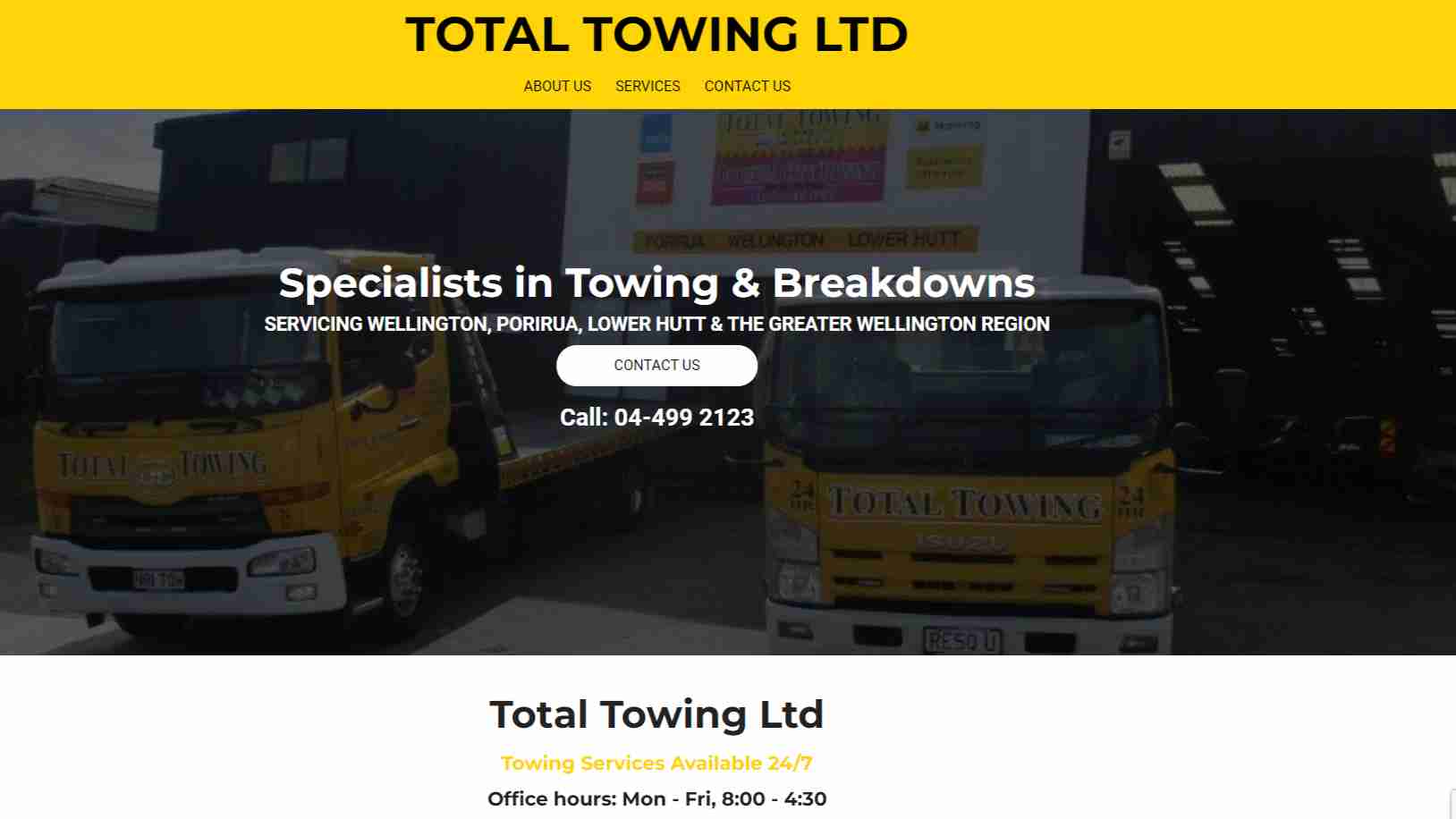 Location: 8 Mohuia cres, Elsdon, Porirua, Wellington
Phone: 04 499 2123
Total Towing With a commitment to prompt and professional service, it caters to all your towing needs. Whether it's roadside assistance, vehicle recovery, or transportation, their experienced team ensures your vehicle is in safe hands. It delivers peace of mind whenever you're in a bind.
4. Jamieson's Tow-It
Location: 509 Ohiro Road, Brooklyn, Wellington
Phone: 64 4 389 1976
Jamieson's Tow-It With a commitment to reliability and efficiency, they provide a range of towing services, including vehicle breakdown assistance, accident recovery, and more. Their skilled team and well-equipped fleet ensure your vehicle is in safe hands. Whether it's a car, motorcycle, or light commercial vehicle, it is your trusted partner for all towing needs in Wellington.
5. MP Vehicle Recovery
Phone: 022 312 7303
MP Vehicle Recovery Trust them to handle any roadside emergency with their skilled tow truck operators and efficient fleet. From breakdowns to accidents, they provide prompt assistance 24/7. Rest assured that your vehicle is in capable hands with them.