If you're a new puppy owner in Hamilton, you'll want to make sure your furry friend receives the best possible start in life. Enrolling your puppy in a reputable puppy school can provide a strong foundation for their development and improve their socialization skills.
However, with so many puppy schools, it can be overwhelming to choose the right one. That's why we've compiled a list of the best puppy schools in Hamilton that offer quality training.
Whether you're looking for basic obedience training or specialized classes, such as agility or nose work, we've got you covered. By the end of this article, you'll have all the information you need to choose the best puppy school in Hamilton for your furry friend.
YOU MIGHT ALSO LIKE:
The Best Puppy School in Hamilton
1. Waikato Canine Obedience Club
Location: 30 Bristol Place, Te Rapa, Hamilton 3200
Phone: 07 849 1502
Waikato Canine Obedience Club promotes responsible dog ownership and provides dog training services. They offer obedience classes for all levels of dogs, from puppies to advanced competition levels, as well as agility training and socialization sessions. The club is run by volunteers who are passionate about dogs and their welfare. Their training methods are positive and reward-based, ensuring a fun and enjoyable experience for both dogs and their owners. The club also holds regular events and competitions to showcase the skills and talents of their members' dogs.
2. Hamilton Dog Obedience Club
Location: Normandy Avenue, Melville, Hamilton 3206
Phone: 07 834 2025
Hamilton Dog Obedience Club promotes responsible dog ownership through dog training classes for all breeds and ages. They offer a range of classes, from puppy preschool to advanced obedience, and also provide socialization opportunities for dogs and their owners. A group of devoted volunteers who love dogs and are dedicated to helping owners form strong bonds with their pets run the club. With over 50 years of experience, it is a trusted and reputable source for dog training in the region.
3. Dog Minds NZ
Location: 5 Croall Crescent, St Andrews, Hamilton 3200
Phone: 021 775 562
Dog Minds NZ is a professional dog training service that specializes in personalized training programs to meet the unique needs of each dog and its owner. They offer a range of training services, including puppy training, obedience training, and behavioural modification. Their positive reinforcement-based approach focuses on building a strong bond between dogs and their owners, promoting good behaviour and creating a harmonious home environment. They also offer online training courses for those who cannot attend in-person training sessions.
4. Paws Wellbeing Centre
Location: 645 Te Rapa Road, Te Rapa, Hamilton 3200
Phone: 027 682 1000
Paws Wellbeing Centre offers a variety of high-quality pet care services such as doggy daycare, boarding, grooming, and training. The centre is equipped with spacious indoor and outdoor play areas, as well as comfortable and secure boarding accommodations. Their skilled and certified crew is devoted to maintaining the well-being, joy, and security of each adorable visitor. The centre provides personalized dog training programs for all breeds and ages, emphasizing positive reinforcement to assist with making pets obedient and well-behaved.
5. Kool K9 Training
Location: 18 Goile Road, Koromatua, Hamilton 3290
Phone: 0274 771 047
Kool K9 Training is a dog training company that offers a variety of training programs for dogs and their owners. Some of their popular programs include puppy training, obedience training, agility training, and behaviour modification. They also provide private training sessions, group classes, and boarding programs. They pride themselves on using positive reinforcement techniques to train dogs and enhance their well-being.
Their experienced trainers focus on building a strong relationship between dogs and their owners while promoting good behaviour and socialization. Overall, they aim to help dogs become well-behaved and happy companions.
6. Pet School
Phone: 021 582 066
Pet School is an online platform that offers a variety of courses for pet owners and pet professionals. The courses cover a wide range of topics, including dog training, cat behaviour, pet first aid, and grooming. The platform also provides a community forum where students can connect with each other and receive support from instructors. One unique feature of Pet School is their emphasis on positive reinforcement training methods, which prioritize rewarding good behaviour rather than punishing bad behaviour. Overall, it is a valuable resource for anyone looking to improve their knowledge and skills related to pet care.
7. Tony the Dog Trainer
Phone: 0210 277 1111
Tony the Dog Trainer is a professional dog trainer with over 35 years of experience in the field. He offers a range of online dog training courses and resources for dog owners, including personalized coaching, video tutorials, and training materials. His training methods are based on positive reinforcement and building strong bonds between dogs and their owners.
Tony's goal is to help dog owners create a happy, healthy, and well-behaved dog that is a joy to be around. With his extensive knowledge and expertise, Tony has helped countless dog owners around the world achieve their training goals.
8. The Dog Dude
Location: Hamilton Central, Hamilton 3204
Phone:
The Dog Dude is a renowned animal behaviourist and trainer. As the founder of the Animal Behavior Clinic, he is widely known for his expertise in working with various animals, including dogs, wolves, bears, and elephants. They have over 40 years of experience in the field of animal Behavior. Their approach to dog training is based on positive reinforcement and building trust with the animal, rather than using punitive methods.
9. Hamilton Hounds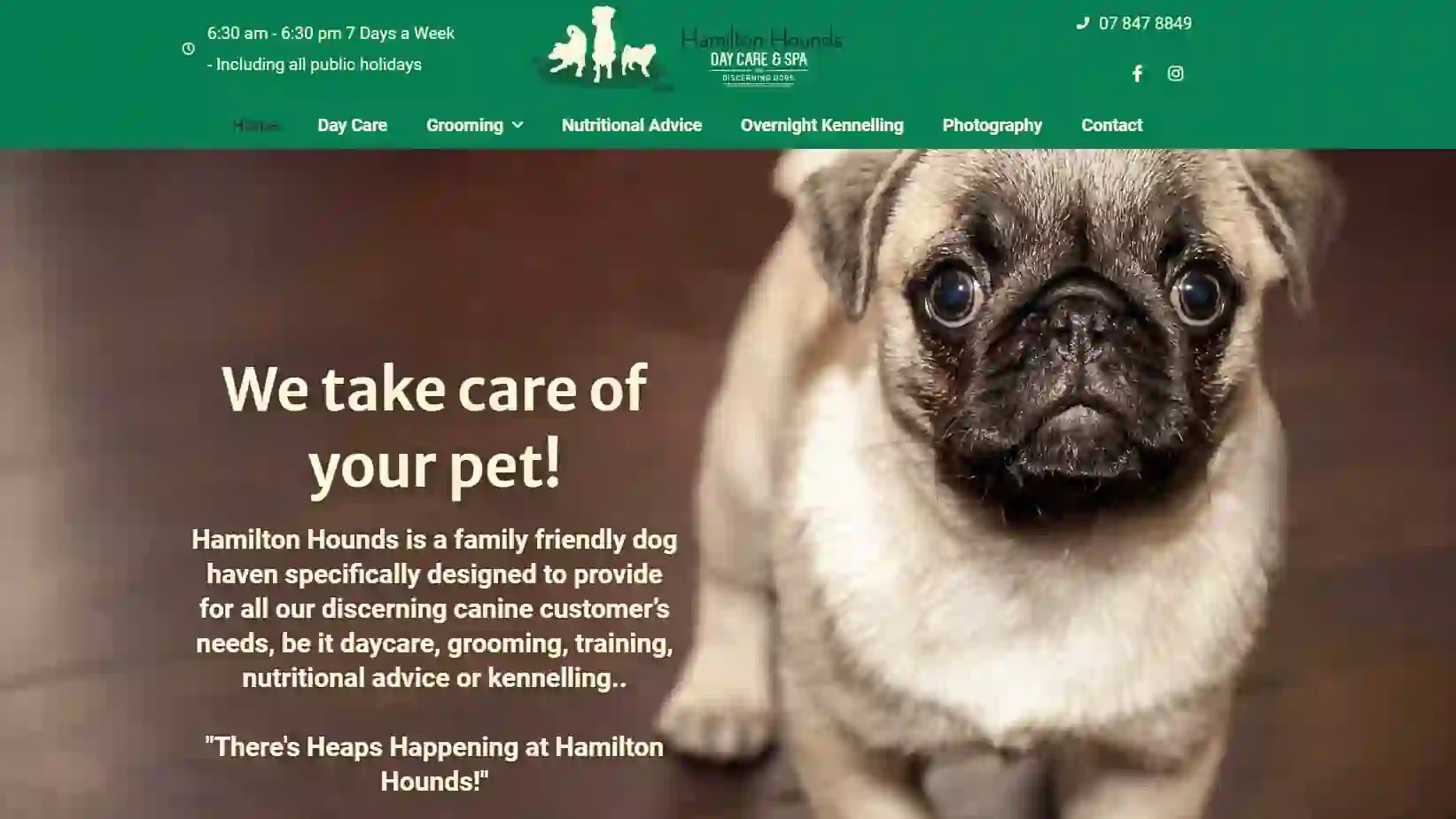 Location: 12 Grasslands Place, Frankton, Hamilton 3204
Phone: 07 847 8849
Hamilton Hounds is a premier dog daycare and boarding facility. Their experienced staff provides exceptional care for dogs in a fun and safe environment. Hamilton Hounds offers spacious indoor and outdoor play areas, comfortable boarding accommodations, and personalized attention for each dog. Their services also include grooming and training options. With a focus on positive reinforcement and socialization, it is the ideal destination for dogs to play, learn, and stay.
FAQ's
What are the benefits of enrolling in Puppy School?
Enrolling in a puppy school in Hamilton can provide numerous benefits for both you and your furry friend. Here are some of the benefits:
Socialization: Puppy school provides an opportunity for your pup to socialize with other dogs in a controlled and safe environment. This helps them develop good social skills and learn how to interact with other dogs.
Training: Puppy school provides structured training sessions that teach your puppy basic obedience commands such as sit, stay, come, and heel. These commands help establish a strong foundation for your pup's future training and behavior.
Behavioral issues: Puppy school also helps address any behavioral issues your pup may have, such as biting, chewing, and jumping. Trainers can provide guidance and advice on how to correct these behaviors.
Bonding: Puppy school provides a great opportunity for you and your pup to bond. Training together and spending time together can help build a strong and trusting relationship.
Expert guidance: Puppy school trainers are experts in dog behavior and can provide guidance and advice on everything from diet to exercise to grooming.
Overall, enrolling your puppy in a puppy school in Hamilton can be a great way to start your furry friend's training and socialization journey, while also providing a bonding experience for you both.
What should I bring to Puppy School in Hamilton?
It is recommended that you bring your puppy's leash and collar, as well as some treats or toys to reward good behavior. You should also bring any necessary paperwork, such as proof of vaccinations or enrollment forms, as required by the program.